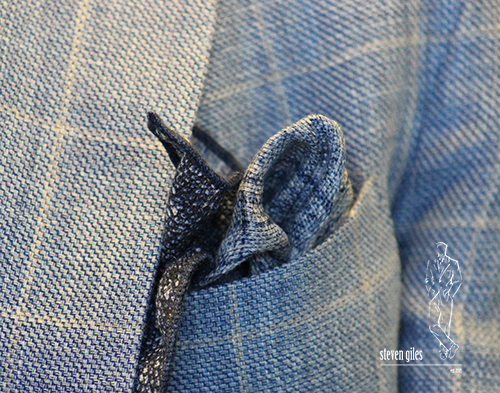 Fiber, the smallest unit of cloth visible, is either a staple fiber (a short measurable length) or a filament fiber (a continuous length). Fibers are natural or can be man-made. Natural fibers are protein (meaning they come from animals) and cellulose (meaning they come from plants). Man-made fibers are regenerated cellulose, today mostly purified wood pulp (rayon and acetate) and non cellulose, a petroleum product (nylon and polyester). Natural protein fibers, wool come from the gathered or shorn hair of animals…alpaca, camel, cashmere, goat vicuna, angora. Silk, on the other hand, is collected from the secretions of the silkworm.
Fibers by themselves are not much use in making fabric. They must be combined into strands then spun into yarn. Yarns may be used singularly or twisted together as plied yarns. Twist in a yarn will influence the fabric hand, absorbency, elasticity, luster and strength. The spinning process first begins with carding…a process that cleans the fiber. Following is combing (cotton), worsted (woolens) processes to straighten fibers to a uniform standard and to cull out the shorter fibers. These processes are labor intensive but create a refined tighter construction for a higher-grade yarn. Finally, the spinning process of which several systems are used (bobbins, spindles, cops, tubes, cheeses,etc.) to determine yarn size and ultimately thread count determining the density and quality of the fabric to be produced. Fabric is formed by non-woven knitting and woven processes including a finishing process necessary to most fabrics before considered the finest of fabrics available to be used in clothing products.
Non-woven knitted fabrics share dozens of common processes, but all share one characteristic to differentiate them from woven…they each have just one set of yarns looping together to create the fabric. Knits are not as strong as a woven, but they have more stretch. The earliest knitting process dates to (A.D.250) a hand process until 1589, when Reverend Henry Lee invented the flat bed knitting machine. Many knitted products are considered heirloom pieces, works of art…timeless styles, Argyle, Intarsia, Fairisle, Shaker, Fisherman and Cable knits. Always everlasting favorites.
Plain woven fabrics, on the other hand, have two sets of yarns interlacing at right angles. Woven on a machine called a loom…warp (a single yarn is called an end), held under tension from the back of the loom to the front. Weft (a single yarn is called a pick), filling yarns carried back and forth across the loom via a shuttle interlacing with the warp. Unlike the many knit variations, weaves are few, three basic weaves.
Plain weaves, the simplest fastest production and as such, most common, used in 80% of all woven fabrics. Particularly shirting's (Broadcloth, Chambray, Madras, End on End, Linen) and lighter weight clothing fabrics (Crepe, Poplin, Seersucker, wool worsted).
Basket weaves, a simple variation of the plain weave…two or more yarns going the warp length and the weft width rather than one as in the plain weave (Oxford Cloth, Hopsacking and Repps). Repp weaves are most often used for necktie production.
Twill weaves, the second most common of the three weaves, are characterized by pronounced diagonals on the fabric face. Sturdy fabrics originated in Northern Europe for durability and warmth (Covert, Calvary Twill, Denim, Drill cloth, Tweed, Gabardine). For variations in the weave, the direction of the diagonal is changed, creating patterns such as Herringbone, Houndstooth, Shepherd and District checks Glen plaid, common plaid, Windowpane, Tattersall and more.
Plain weave with a Satin finish originated in countries that trade in silk fibers. Woven with a minimum number of staggered interlacing, the face of the fabric has more warp and weft than the back creating a smooth reflective surface (Blazer, Suede cloth, Chino).
Plain weave with miscellaneous Dobby effects refer to fabrics with small woven figures, dots, geometric patterns and floral raised from the surface of the cloth. Woven by an automated Dobby loom today, originally the hand loom relied on a "Dobby boy" who sat on the top of the loom and, by hand raised warp threads to form a pattern.
Plain weaves with a filling pile created by floating extra picks on the surface cut in and out of the loom to form tufts of pile. When cut the pile appears in a row (wale). Fabrics include velvet and corduroy.