Written by: Greg Elwell
Stylish Eats reviews are brought to you by Steven Giles Clothing, the menswear store for those with discerning taste. Style extends well beyond the confines of clothing, so Steven Giles is teaming up with I Ate Oklahoma to bring you reviews of eateries with a refined palate across the state.
There is something at once formal and relaxed happening at Sushi Neko. Long considered one of Oklahoma City's best sushi eateries, Neko was the first to put style at the forefront. From elegantly simple menus and mood lighting to the use of a cartoon cat mascot ("neko" is Japanese for cat), it's an aesthetic that feels just as perfect for a date night as it does a business meeting or a raucous dinner with friends.
Of course, all the place setting in the world would be useless without the substance to back it up, and Sushi Neko has cooking talent in spades. Part of the Western Concepts restaurant group (which includes previous reviewee The Hutch on Avondale, Lobby Bar, Musashi's, and The Tasting Room), Neko combines all the service skills you demand from fine dining and one of the most Instagrammable sushi menus in the state.
And there's something to be said for being seen at Neko, too. It's a hob-nob friendly spot, especially at lunch, so if you're trying to network while chowing down on tasty nigiri, this is the place.
The Food
The appetizer selection at Sushi Neko goes from mild to wild real fast. $10 may seem like a lot for spicy miso soup, but check the ingredients before you rule it out. There is green mussel, shrimp and scallop floating in that gorgeous, umami-rich broth. And I love it. I love that this restaurant recognizes its own quality and doesn't care what others are doing. Run your race, sushi cat.
The mini blossom filet ($22) and the hamachi kama ($16) are well worth the price, especially if you want to balance the cooked with the raw.
And, it feels weird to say this, but you should get the pommes frites Neko style ($6) on the side. It's french fries, but they're tossed in this sweet and spicy sauce that is just sticky and wonderful. Plus, the fries are just top-notch. Crispy and hot and a joy. Get some.
That said, we are at Sushi Neko and it's high time we got to eating the sushi.
If you're on a tight budget (believe me, I've been there), you'll want to stick to the rolled sushi menu, which has some value options–Big Roll ($7) is packed full of veggies and the California Roll ($6) uses a crab salad instead of crabstick.
But if you're wildin' out, let your fingers do the walking down to the hand-rolled sushi and the Neko specials.
If you haven't tried a handroll before, it's at once familiar and totally different from most of the sushi you've had. The Nuclear Handroll ($7.50) is a long cone of nori filled with rice, kaiware (daikon radish sprouts), diced green onion and tuna with a "nuclear" sauce that is HEAVY on sinus-clearing heat. Seriously, I had to take a deep breath before each bite.
And then, like magic, the searing sting is gone and you're just back to grabbing sushi rolls off your friend's plate.
Fun-ish fact: Did you know it's perfectly acceptable to use your fingers when eating sushi? It's the Japanese way! (Please wash your hands first, though.) But when you're eating sashimi–that's raw fish without rice–use your chopsticks. Also, generally, you're supposed to eat each piece of sushi as a single bite. That can be hard with some of these monster-sized rolls, but it's meant to be experienced all at once.
Speaking of MASSIVE pieces of sushi and wildin' out, let's talk about the Sea Monster Roll ($29). Yes. An almost $30 sushi roll. But wait'll you see this thing.
Okay, now you've seen it. It's huge. Inside it's stuffed with tempura-fried lobster, crab stick, chili sauce, cilantro, and roe. Outside is a slathering of avocado, eel sauce, and black sesame seeds.
But wait, there's more! You also get a martini glass filled with seaweed salad covered in more lobster meat, spicy sauce, radish, cucumber, and roe. I'm not usually a proponent of getting just one roll, but if you get this, you really don't need more. It's enormous. It's complex. It's full of lobster.
The Cowboy Roll ($16) is a beautiful mess. The inside is full of tempura-fried shrimp with cream cheese and a spicy sauce, while the outside it topped with crab salad, tempura crispies, roe, and eel sauce. This is as American as sushi gets and I'm not about to tell you I don't love it.
Look, do I love the taste of fish? Yes. But if you want to stick cream cheese, tempura salmon, and jalapeno in a roll with some spicy sauce, as they do in the Atomic Tootsie Roll ($8.25), I'm going to eat it and I'm not going to feel bad. It's okay to eat the foods you like. It's okay if it's not always "authentic."
I mean, I don't know that Japanese chefs make a lot of smoked trout nigiri ($4.99), but I loved it and I'll keep ordering it. Firm, smoked trout, with that sweetness imparted by the fire laying atop a ball of perfectly cooked sushi rice–there's nothing there not to like.
Getting away from cooked fish, the Kamikaze Roll ($7.25) is another delicious-yet-dangerous dish. Yellowtail, jalapeno, nuclear sauce, and cilantro combine for a powerful bite that will have you reaching for your water.
Meanwhile, the Grasshopper Roll ($8) is, in name and reality, the greenest of the rolls we tried. Inside is shrimp, avocado, asparagus, sesame seeds, wasabi mayo, horseradish, and cilantro. The shrimp is really there for the meaty texture, because the avocado and cilantro really stand out in this one. It's kind of like a guacamole sushi roll, which sounds amazing, right?
If you're a drinker of things and an occasional haver of fun, like me, I really dug the sake bomb. Here's a video of me drinking one. Don't worry: the server instructed me on the proper way to drink a sake bomb and she was standing by with a wet towel to clean up the mess.
Service on point, guys.
Just as you can dress for any occasion, Sushi Neko is a restaurant for any occasion. Dressed up or down, alone or with a group, this eatery adapts to whatever you ask of it.
Stylish Eats are sponsored by Steven Giles Clothing, a high-end men's fashion store in Classen Curve providing expertly tailored suits, timeless casual wear and everything in between. Visit them online at stevengilesclothing.com to schedule a fitting or stop in at 5850 N. Classen Blvd. to browse their selection in person.
Read more reviews by Greg at
https://www.iateoklahoma.com/reviews
"An alligator is not a crocodile and a suit coat is not a sport
jacket." – Steven Giles
Sport coats and suit coats are not the same.
Sport jackets are exactly what they sound like–jackets for sport.
A less-formal coat, usually styled of
bolder details, patterns and colors, made with a sturdier fabric and looser
fit, it was originally designed as a garment for gentlemen who hunted in the
morning.
The Sport Jacket today while only loosely retaining its heritage,
nevertheless is a less formal statement and does not stand in place of a
suit. However, today's jacket may have
elevated its importance as both a refining and distinguishing fashion in an
otherwise dressed down culture.
Sport coats are meant to be worn with unmatched trousers or, with many
soft constructions, jeans. Contrast that
with a suit coat, which is a paired jacket with matching pants of the same
materials and cut to be more form-fitting.
"A suit coat should not double as a sport jacket. It's a stylistic
mistake," Giles says. "Plenty of pieces can be used in an array of outfits, but
this isn't one."
Look for a jacket with heavier wool yarns and room enough to
accommodate a sweater underneath in winter, but not so much as to hang off the
body. For summer, much lighter weights,
choosing linens, silks, cottons or any of these summer fabrics blended with
tropical wools. As with almost all other garments, Giles says, a good fit,
followed by skilled tailoring, makes all the difference.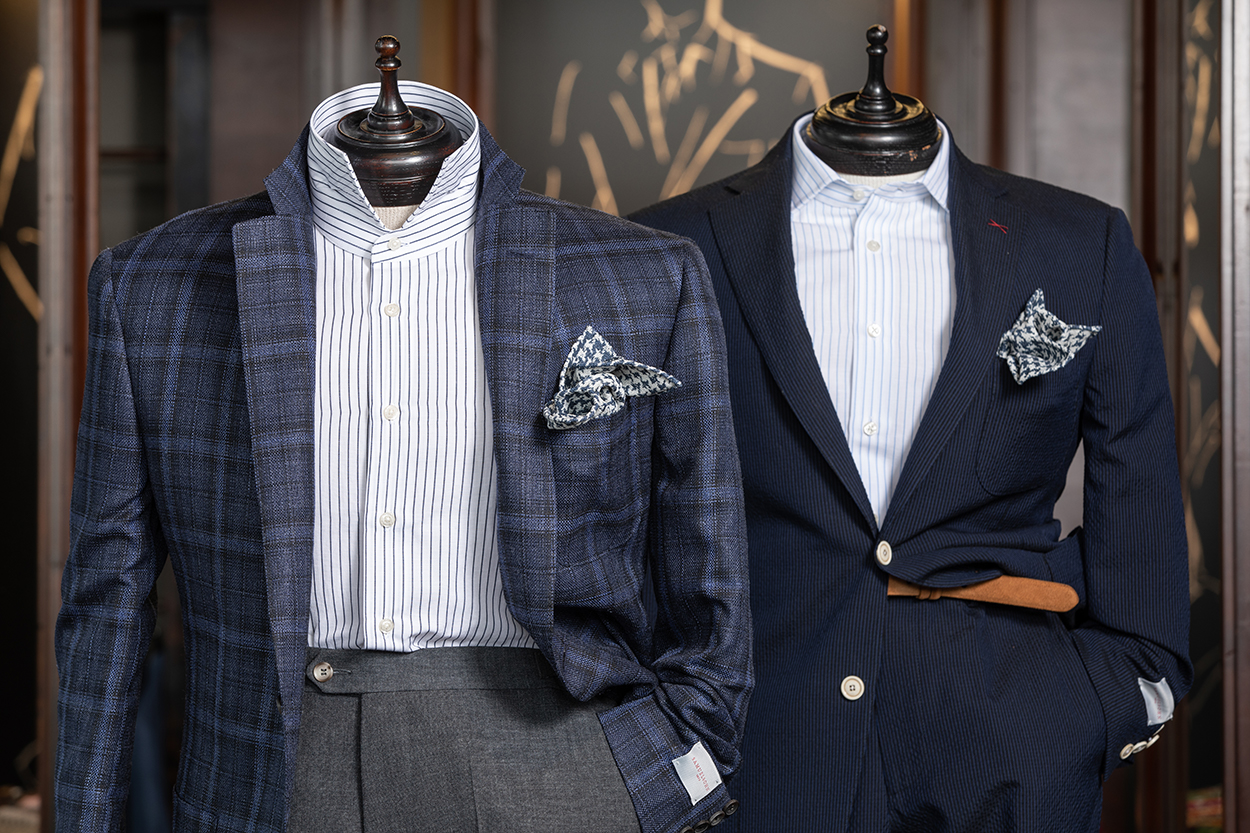 Spring 2019 Photo Shoot with Simon Hurst, just a few of our favorites and a bit about Simon.
I was born and raised in England, travelled the world and have been settled in Oklahoma City, Oklahoma for over 20 years.
I have an absolute passion for photography and light no matter what the subject: headshots, people, products and environments. With close to 2000 square feet of studio and the outside world….. I have no boundries.
My goal is to make it a fun, stress free experience. I enjoy working together with clients to develop and capture their creative vision. I am dedicated to making the right images and story for you.
Please email or call for more information about bookings or to request a portfolio review. You might even hear the rest of the story of how this Englishman wound up in Oklahoma.